---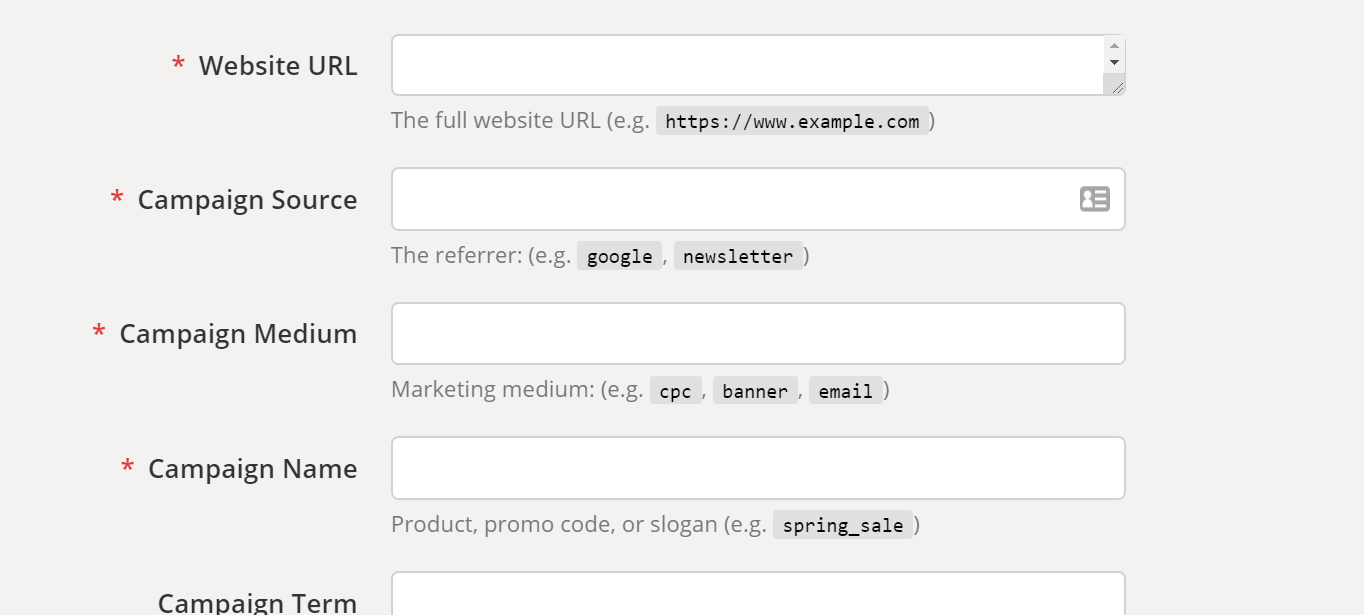 The Powerful Guide to Using UTM Parameters
I wrote about how you can use the most profitable social media platform I had previously; I will share with you today how to find out about the most valuable social media platforms today. Using UTM parameters will give you the best data for accurate analysis.
How much do you understand of your online marketing campaigns? Do you know which of your campaigns is working well, and which requires further optimization?
You might have been keeping track, keeping tracks of the different tabs on your Google Analytics reports. Yes, that is necessary and powerful, but don't you find it too broad sometimes? Wouldn't it be better if you have an advanced tracking option that will keep track of your specific marketing campaigns, and always on the updated one, is driving the most traffic for you?
Google Analytics tracks the origin of your site visitors using their default settings. Still, you will likely find that all the default settings by Google might be too broad to give, ascertain useful, meaningful data.
To get better, granular, and useful data, you have to append the UTM parameters to the links you would want to share around in the world.
What are UTM Parameters?
UTM stands for the urchin tracking model; it is a tracking marker appended to the Uniform Resource Locator (URL). The UTM system will allow you to tag to hyperlinks to track where the visitors originated.
UTM parameters are simply tags added onto the URL. These kinds of tags deliver to Google Analytics for tracking purposes when someone clicks onto the URL with the URL parameters.
Once your URLs are tagged with this UTMs, you can better understand how your visitors interact with your site. Here is an example of how the parameters appear at the end of the URL.
They are stubborn entities stuck to the links, even after you switch to other networks and mediums.
In this post, I will be sharing all information related to the UTM parameters, UTM tracking, and how gaining all these data will help us fast forward with our digital marketing campaigns and effort.
There is a systematic way to append them to URLs. It allows you to identify and indicate which is the best way to find the most effective URLs in attracting and drawing visitors to your content.
You may use Google's URL builder to organize the content and indicate anything that helps you identify your specific marketing campaigns.
A UTM is consists of various parameters, and here are the UTM parameters that matter the most.
Campaign source (utm_source)
Campaign medium (utm_medium)
Campaign content (utm_content)
Campaign name (utm_campaign)
I will explain each of these parameters in the section below:
Campaign Source (utm_source)
Campaign source refers to the source of the UTM. In general, it describes where your visitors are coming from. The source also tells you where exactly where the referring link was shared, such as:
email promotion
social network
referring website
paid ads
Common sources include:
Facebook
Email newsletters
Google
Twitter
Youtube
Campaign Medium (utm_medium)
Campaign medium parameters will help you identify the medium, the vehicle that the link was used on.
It tells you how your visitors get to arrive on your site, some of the standard medium include: 
Cost Per Click (CPC)
Email
QR code
Banner ads
Direct traffic (users directly typed in your site address)
Social media
Affiliate Marketing
Campaign Content (utm_content)
Campaign content parameters are of good use for A/B testing; it describes the specific ad, banner, or email you used to share the link.
It gives you additional information, describes the best creatives to know which is working best, at promoting an offer, and distributing content.
You can differentiate the ads, the links that point to the same URL.
Always make sure to be as descriptive as possible with these parameters' naming structure, so that you can remember what email or ad this UTM refers to.
Campaign Name (utm_name)
This parameter is used for you to identify your campaigns. It serves as an identifier, so you know which specific, promotion campaigns like spring sale, or any other promotion you are running.
Campaigns' names purposes are to highlight the promotional offers or any distribution strategies you used. This helps you to compare the performances, easily across time and platforms.
Campaign Term (utm_term)
Campaign terms are used mainly for the tracking of your keywords during the Google Ads Campaign. You can use it in display ad campaigns also to identify the aspects of your audiences.
Breakdown of UTM
I had gone through the most important parameters that make up a UTM in the previous section. We will examine the UTM in this section, helping you understand the UTM structures better.
We will look at one UTM we have created; for instance, it is a flash sale for one of our digital marketing agencies ' products and services.
https://webleads.sg/: This refers to the hyperlink
?utm_source=house-list-email-broadcast – this is the campaign source, which is also the referring source of the traffic. We indicated the "house" to remind ourselves that we sent it via our own "house" subscribed to customers in other words.
utm_medium=email: This is campaign medium, how the user is referred. And in this case, it will be through email
utm_content=content-engine-flash-mail-1-17: This relates to campaign content, the ad or campaign identifier you have assigned. In this case, I have indicated 1-17 to indicate that this is the first ad I have set up in the year 2017, for content engine flash sale.
utm_campaign=content-engine-flash-sale-2-1-17: This is the campaign name, the specific promotion or strategy. In this case, this refers to the content engine flash sale on February 1st, 2017.
3 Best Practices of UTM
Google has made it extremely easy to create UTM. There is a free and easy UTM builder, also known as the Google Analytics URL builder.
You can visit the page, follow the steps, and plugin your information to automatically generate hyperlink with UTM parameters and move on to tracking with Google Analytics.
Creating excellent attribute hyperlinks takes some time and requires a lot of practice. Some of the best practices I had experimented throughout the years are written below. Following these should help in the identification of your traffic. 
Standardize your naming conventions in your UTMs.
Eliminate the confusion later, ensuring your UTMs are reportable.
It is good practice to use dashes instead of underscores and percentages as the representation of spaces in your URLs. You may even use the plus (+) signs if you would like it, Google will not penalize you for using that.
UTM parameters are also case sensitive, so if you use abc, for example, on your utm_campaign tags on some links and ABC, for example, for your utm_campaign tags on other links, they will most likely show up as separate campaigns in your Google Analytics.
My suggestion is to prevent as many errors as possible; it is best to keep all at lowercase so that it will be easier for you to remember later on.
Keep your parameters descriptive like the one I have created for our agency earlier, less redundant, and easy to read.
Remember to shorten the URL, using tools like bit.ly, or the free Google Link Shortener. A standard UTM is long is bulky, it is not user-friendly and may come off as spammy to most visitors.
Use a spreadsheet to track your UTM.
I usually keep a record of the tagged links in my marketing; you can use excel, other spreadsheets available on the Internet to get started.
Create a naming convention that lays out all information you need to the tagged links. It can be simple iterative, and when you come across new information or any new scenarios, you can add further details.
Establish goals in Google Analytics after setting up your UTM system.
The most crucial part of any business isn't the number of clicks and the traffic generated from the different sources. Sales and profits are the most critical factor to keep the business going.
You must connect the data collected from UTMs and connect it with your customer relationship management. This will give you a bigger picture and optimization strategies you can optimize, and what are the online marketing channels that are affecting your profits.
I will recommend you to prioritize your findings, to track more of the conversion-related metrics first, such as lead generation, email signups, newsletter opt-ins, etc.
Create Goals To Track Who Are Taking Actions
After creating your UTMs, you need to set up goals to measure the success of your campaigns in Google Analytics.
Goals provide a way for you to track the actions the group of people took on your website and explore specific actions.
Goals are beneficial because it allows you to track the number of times; the actions were taken and also which groups of people took action.
Google Analytics allows you to track information like where the people are in the world, the pages they visited on your website, track the devices they used even though it does not provide information such as email and the person's name.
With the aid of UTM parameters, you can see what individuals or groups of individuals do when they are on your website.
One of the most critical goals to test for conversions is the opt-in that generates sales or leads.
When uses fill up a form, they are often lead to a confirmation page such as thank you page. Simply set up Google Analytics to measure the number of opt-ins you are receiving, and measure how many people landed on the confirmation to track conversions.
To set up your form fill goal in Google Analytics, follow these steps:
Click onto the admin section of Google Analytics; the admin section will appear. 
Click goals under all website data; the dialog box will appear. 
Click onto the + new goal button to create a new goal. The goal setup page will appear. 
Scroll down and click onto the signup goal type, then click onto the continue button. It offers a wide variety of selections and goal templates that will fit your needs, even though you can also create custom ones. To track conversions, sign up should be perfect in this scenario. 
Name your goal, and under the type field, select the destination and press the continue button. The final setup, known as the details pages, will appear. 
Set up the specifics for your goal. For best practice, you can change the rule, to begin with, and add in thank you page or confirmation page URL's string, that is for people who have opt-in or the last page after filling up the contact form. Using begin with will ensure that all the tracking are actual opt-ins, and not just any accidental thank you page, or confirmation page people enter. You may also create funnels to ensure you are tracking the actual opt-ins, and not any thank you page visitors. You can turn on the funnel option to add in the step with the page field, including the page that precedes your destination page, set this step to required, and will have added a rule to this funnel. Remember to verify the goal after you have set up to make sure it set up correctly. 
Click Save, and you will have successfully set up a goal for this page. 
For URL strings, you do not have to add in the full domain name, always use text after the domain name, Google will already know the root domain.
After a few days of data collection with the goals, you have set up in Google Analytics. You can review the collected data, and your goals you have set up with the UTM parameters will give you the insight you needed into your customers. 
Goals in Google Analytics are good ways to see which channels bring in the most traffic to your website. You will be able to tell which channels, such as Facebook, email, and your blog, are driving your site the most traffic.
With more practice and more bits of know-how, a lot of proper attribution tagging, you can set up Google Analytics campaign tracking to give you more insights.
The data will give you a better foundation; you get a better grasp of what is needed to track your success accurately, allowing you to focus on what is working and eliminate what is not working.
This assessment is essential as you move along with your business, and you gain to make more educated decisions as you grow.
Conclusion
UTM parameters are powerful tools from Google Analytics that allow you to understand your website traffic in-depth. It will enable you to gain access to a gold mine, boost your sales, and improve your marketing efforts.
Create UTM for all your different campaigns and links using Google's UTM campaign builder. It will help you in campaign tracking and better optimization. Remember to follow the best practices as you do so.
The previous sections have given you the insight to track success and determine which channels drive success accurately.
How do you get all this knowledge to work for you? The answer will be segmentation; the next thing you have to do is to segment your audience. The critical information you have collected from UTM, and creating goals in Google Analytics will allow you to break down audiences into segments based on the following:
Channels
Traffic sources
Completed actions
Conversions.
Read more: Why use audience segmentation in Google Analytics?
Did I miss any points in this UTM parameter blog post? Let me know your thoughts in the comment section below.